Poly-Cotton Stretch Fabric
Teflon™-coated, stain/water resistant stretch fabric, for your wet, dirty & demanding circumstances.
A front zippered vent which doubles as a pocket and rear centerline ventilation. You keep cool without sacrificing fabric durability.
No pocket limitations on your new favorite button-up. Featuring dual chest pockets, a front zippered pocket, pen pocket and giant rear stash pocket.
Purposefully Multi-Functional
Built for you to move in, but still look great. Dress it up or beat it, it is a true "from the jobsite to campsite" shirt. Just save the clean one for date night.
What button-up allows you to sweat on the job, but keeps you cool and looking professional while not sacrificing fabric weight, durability and pocket features?
The Thunderbolt Shirt was designed to cover all your bases. With performance features like a Teflon™ coating, making this shop shirt stain and water-resistant, you stay fresh while working hard.
The front and rear ventilation makes this shirt a dream to wear on the job, keeping you fresher, longer. No more unprofessional sweat stains because the sweat stays on body and doesn't seep through, the vents then cool you off as the air passing through evaporates it, exactly as it was intended.
Many of us don't stop there when the workweek is done we get out and play. Whether it is a long weekend in the Sierras or a quick trip to Ocotillo the poly-cotton stretch fabric can handle what you throw at it. Our multi-purpose vented chest pocket not only allows for interior breathability but is also quick-access storage.
The 5 pockets on this shirt include a huge rear stash pocket which is perfect for a pair of gloves or any large items you wouldn't normally be able to carry with you.
Dress it up or beat it up, this shirt can be worn in the shop, on the trail, or at the meeting. Extremely versatile for all your needs.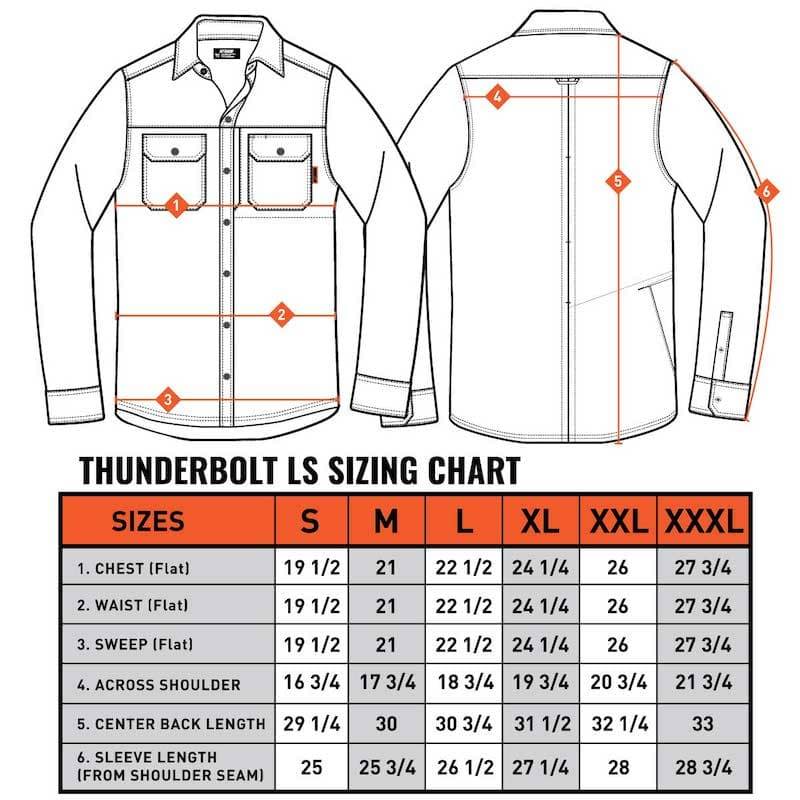 Reviews
Customer Reviews
Write a Review
Ask a Question
02/16/2021
TJ G.

United States
Performance Based
Off the bat, I was impressed with the quality of the Thunderbolt Long Sleeve. More importantly the design accompanied by the material choice is what intrigued me the most about this product. No where will you find a rugged, breathable, yet professional looking button-up that incorporates unique pocket storages and integrated ventilation. Additionally, for personnel working within the capacity of security, the Thunderbolt Long Sleeve is a low visibility solution while operating in a multitude of environments. Great fit, look and durability. Easy 5 Star Review.
02/15/2021
Daniel L.

United States
Thunderbolt LS BU
Great! Delivery was quick and easy! Product runs pretty true to size.
02/11/2021
Josh B.

United States
Great Shirt
its very rugged and maintains comfort. Very stylish as well. All around a great buy!
02/03/2021
Jim F.

United States
Nice shirts
Seem sturdy and will hold up long term. When I pulled them out of the packaging, my wife asked if I'd bought work shirts or dress shirts. So they must look exactly like OTG described. I feel like I could go out in these and not look like a bum somewhere nice. They fit great and just breaking the fabric in to be slightly less stiff. My suggestion might be to put gussets in the arm pits so they don't pull or feel less restrictive when you reach up. Maybe on the next edition? Other than that I'd say another home run. Products that feel like they were designed by someone that couldn't find what they've been looking for in stores.
Great fit for long arms
Great fit for long arms and wide lats. Seam in the back allows for good moveability.